HERE TO HELP EVERY STEP OF THE WAY!
We'll help you transition into and succeed at your chosen academic program. Our admissions representatives are dedicated to you, assisting with:
EARN YOUR DEGREE ON YOUR OWN TERMS
Coleman University offers flexible class schedules that take into account your already busy calendar. We have campuses in convenient, easy-to-access locations throughout San Diego. And we offer a broad selection of online courses. We encourage you to customize your education at Coleman to your lifestyle.
Congratulations on taking the first step to realizing your career goals! You've made an excellent choice in selecting Coleman University as your entry into higher education. To make sure that you're able to enroll in our next academic period, please review the following requirements and criteria outlined below. Representatives in our Admissions Department are standing by to help you determine if you fit these prerequisites and will schedule an appointment with the Dean of your desired program to assess your candidacy, if necessary. The following sections will provide you with in-depth information about our Undergraduate and Graduate Admissions Requirements.
WHEN ENROLLING FOR UNDERGRADUATE CLASSES PRIOR TO HIGH SCHOOL GRADUATION
You may take undergraduate courses prior to completion of your high school program if you have received permission from your advisor and maintain a cumulative grade point average of 3.0 or higher. Final acceptance into the degree program will only be granted when you successfully complete you high school program or GED.
ADMISSIONS PROCEDURE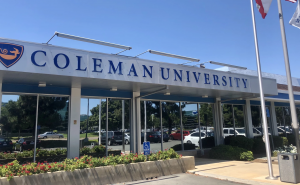 IT'S NEVER TOO LATE TO APPLY! COLEMAN OFFERS FIVE ENROLLMENT STARTS EACH CALENDAR YEAR!
With a busy schedule sometimes life can get in the way. That's why we at Coleman strive to make our application process as quick and easy as possible. To make sure you have a smooth enrollment process, we encourage you to use the following checklist.